Cafe, deli, homemade cake, soups & stews, champagne, wine, tea, fancy lemonades, plus wonderful and odd gifts... All this and a lot more including a homey and cozy atmosphere to chill, talk and people-watch can be found right in the center of Nuremberg, Germany.

Ladies and Gentlemen, if you ever make it to this pretty city full of history and medieval architecture, make sure to stop at my favorite spot:
My sister took me to this lovely place first thing after I touched down in Germany during my trip to Europe in December 2016. I sure was jet-lagged and in need of coffee. Coffee - my love! Let me tell you this: What is considered coffee over here (well - at most places), would go straight into the sink in Europe. We live coffee. We know coffee. We celebrate coffee. The
"Ill Amore"
has a top notch coffee machine. Yes, it's a HUGE MACHINE. So there's a wonderful selection of different drinks like latte macchiato, cafe au lait, espresso... Strong and great tasting coffee.
They do serve homemade soups/stews, sandwiches, and other little delicious snacks. Have I mentioned the cake yet? So if you are hungry from a shopping and sightseeing marathon in Nuremberg, the
"Ill Amore"
has your back. I've tried their chili (yummy) and a potato soup. You'll get a basket with REAL german bread on the side. Try it, and you'll understand why I keep hating on American "bread'.
While having your coffee/lunch/dinner, make sure to check out the little shop section, where you ca buy anything from home decor to special selections of "booze" and snacks. The second floor is worth a visit, too.
Well, you kinda have to if you have to use the restrooms.
The interior design is lovely and you'll find something eye catching everywhere.
Here are a few more snapshots: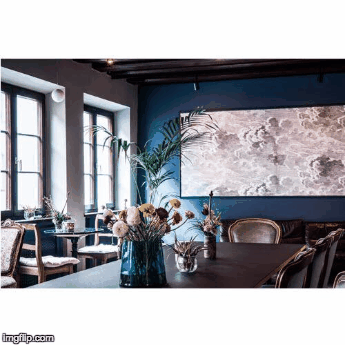 Ill Amore is located on:
Obere Wörthstraße 10
Nuremberg
GERMANY
Call +49 911 23696875
Find them on Facebook
The hours are:
Tuesday - Saturday
9:00am - 8:00pm //
Sunday
1:00pm - 5:00pm //
Monday
CLOSED